There is a growing appetite for alternative proteins. Fuelled by concerns for consumer health, animal welfare and climate impacts, plant-based diets are starting to become mainstream. This demand is partially being met by the rising tide of alternative protein startups. But there is still a huge opportunity we are missing out on.
Environmental impacts of the animal value chain
The food sector accounts for 26% of GHG emissions worldwide. Out of that, around half is due to livestock / fisheries and corresponding land usage. More than 70% of all extracted freshwater is used in the food production and processing industries. The conversion of natural ecosystems for crop production or pasture has been the principal cause of habitat loss, consequently reducing biodiversity.
A snapshot of the protein market
According to BCG:
What do we mean by alternative proteins?
Alternative proteins are foods, ingredients, or beverages that have protein derived from non-animal sources. More broadly, the alternative protein market includes a product mix that spans from human meat / dairy products to consumer good products, as well as value chain equipment and other infrastructure. From a high-level perspective, we structure the sector as follows: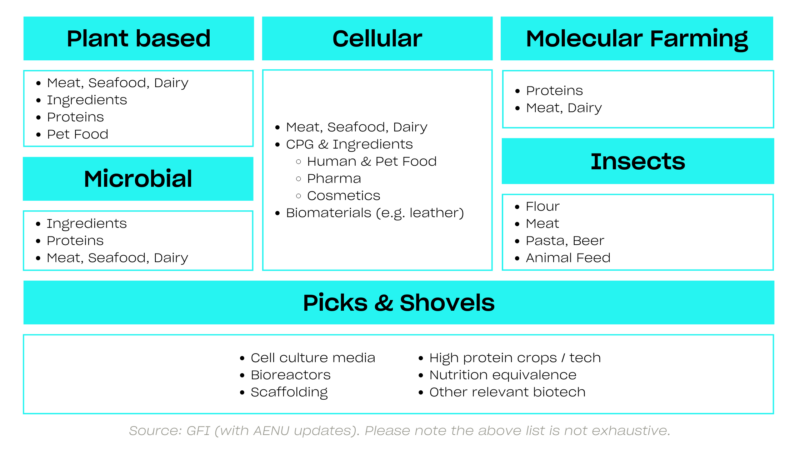 The key impact lever within the Food sector
Within the food industry, the biggest lever to tackle the myriad of environmental impacts – and not just emissions – is moving towards a fully plant-based (vegan), or at least vegetarian or flexitarian diet.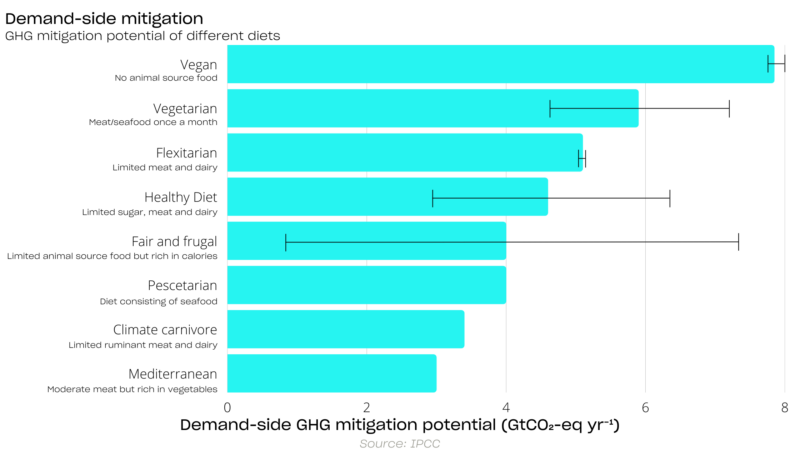 A 2020 report by the United Nations, World Wildlife Fund, and Climate Focus found that changing to plant-based diets could reduce annual food emissions by up to eight gigatons annually. The emissions reduction potential from flexitarian diets (that is, if everyone in the world subscribed to this diet) is five gigatons annually. To support vegan / flexitarian diets, alternative proteins are the only big lever with direct and sizable impact.
The challenges
Even with an 11% penetration rate assumption of alternative proteins by 2035, the impact potential of alternative proteins is approximately 800 Mt CO2e per year. The main caveat to realizing this reduction potential is behavioral change. We assume this behavioral change will take place gradually in high-income markets. The biggest potential is, however, in developing countries where meat consumption is projected to increase. Globally, the meat market is set to increase by 14% by 2030, driven by income and population growth.
To seize the full potential of alternative proteins, sustainable and natural protein options have to overcome the parity challenge (health, taste and affordability). From the affordability side, process efficiency gains will be necessary to scale plant-based and microbial solutions. From the taste side, new inputs (ingredients) that better match the taste of animal-derived meat are necessary. From the health side, clean label products will likely be the preferred option for a subset of alternative protein consumers in the future.
Alternative proteins are underinvested
Globally, 2021 was a record year for alternative protein investments ($5 billion in disclosed investments). But considering the enormous impact potential, it is not enough. The industry is still largely untapped and overshadowed by other sectors. Although these sectors are important, BCG recently reported that investments in meat and dairy alternatives result in three times more GHG reductions than clean cement tech, seven times more than green buildings, (which receives 4.4 times more investment) and 11 times more than electric vehicles (which receives four times more investment).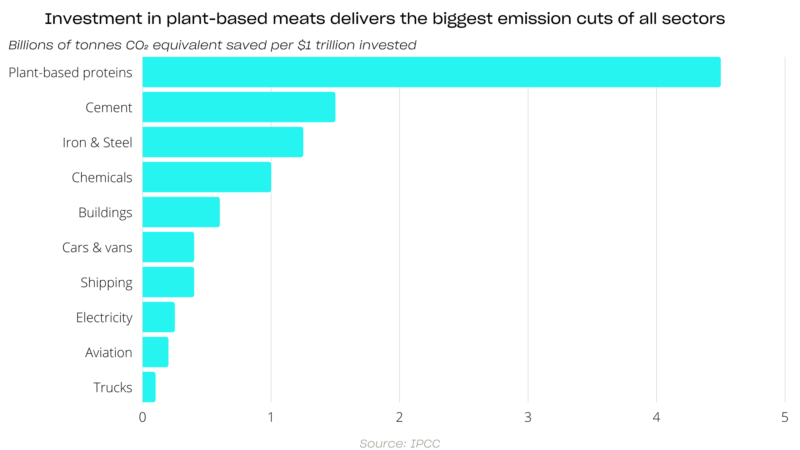 More investment in alternative proteins, beyond plant-based products, can help fund R&D, scale production, reduce costs to compete with their polluting counterparts and increase their accessibility and appeal to a global audience.
Which alternative proteins are we most excited about?
Because taste is one of the main barriers to consumer adoption of alternative proteins, we are excited by solutions that can win meat lovers' hearts. On the plant-based side, Next Gen Foods has mastered the art of making delicious chicken, aka Tindle. Beyond plant-based, we are particularly interested in dairy precision fermentation because, let's be real, there are no good vegan cheeses in the market. There have been many attempts to produce stretchy and melting alternative cheeses using precision fermentation, Change Foods or Formo to name a few. B2B fats also have great potential, with their enabling ability to upgrade alternative products in taste and texture. Even so far as giving them a bloody texture. Melt&Marble is one of the first companies using precision fermentation to produce animal fats.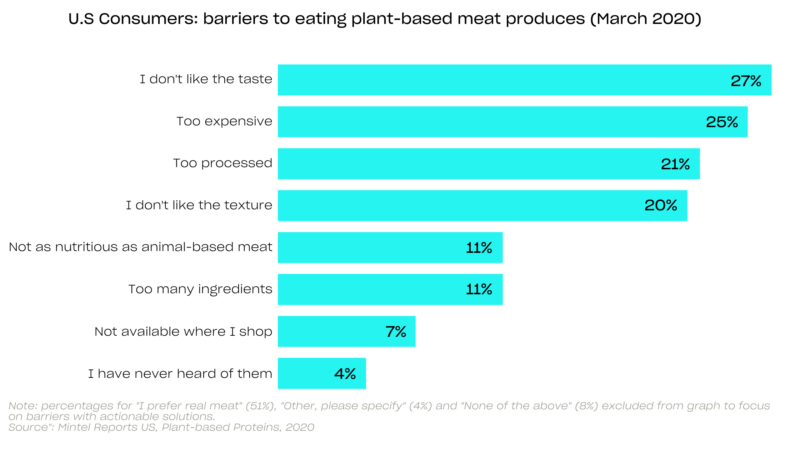 Ingredient platforms are another area we are actively looking into. They facilitate new ways of producing proteins and ingredient substitutes. Ingredient platforms include new strains, protein types or functional ingredients, and are critical to achieve the parity challenge (price, taste and health) needed to increase the market share of alternative proteins. We particularly see opportunities in vertically integrated functional ingredient platforms with superior cost structures and functionality.
Which alternative protein investors inspire us?
On the early-stage side, Foodhack and Purple Orange Ventures have an infinite network of startups, investors and experts. They see everything that's happening in the ecosystem. Growth stage investors we are inspired by include Synthesis Capital, S2G and Astanor. These investors have years, if not decades, of investment experience in FoodTech, understand the pain points of alternative protein startups in and out, and provide expertise and support to their portfolio from the lab to the boardroom. One final mention to emerging managers in the space like Green Generation Fund or Ponderosa Ventures.
Key takeaways
Switching to a plant-based diet has the largest potential to reduce GHG in the food sector.
Alternative proteins require more investments to reach maturity.
Solutions that directly tackle the parity challenge (taste, texture, health) are best positioned to succeed.
The alternative proteins industry requires collaboration to help scale solutions and drive down costs.
Keep up to date with AENU and subscribe to our newsletter!