We are amidst agriculture chaos because of climate change and geopolitical instability. Innovative climate tech investments in Ag-Tech are crucial now more than ever. However, it can be difficult to know which technologies should be prioritized. To help us navigate the Ag-Tech space, we need to identify what can contribute the most to emissions reduction, and biodiversity conservation and restoration. Let's start by looking at the big picture.
Environmental impacts of agriculture
Emissions: Agriculture accounts for 21% of global GHG emissions and is the biggest contributor of nitrous oxide emissions (75%), a GHG with 265x more global warming potential than CO₂. It is also the biggest contributor to methane emissions (42%), a GHG with a global warming potential ~30x that of CO₂.
Biodiversity loss: Water pollution is threatening biodiversity. In fact, about a reduction of one third of global biodiversity is estimated to be a a result of the degradation of freshwater ecosystems. When it comes to land, 5100M hectares, that's half of the world's habitable land, is used for agriculture. And a growing population means food demand will be 60% higher by 2050, requiring additional 200M hectares of land. However, if we shift towards a plant-based diet, only a quarter of current farmland would be needed (check out our alternative proteins article).
Water consumption: If that wasn't enough, even the climate incredulous cannot deny that agriculture needs to change; we are literally running out of water because of it. Agriculture uses 70% of the world's freshwater supply.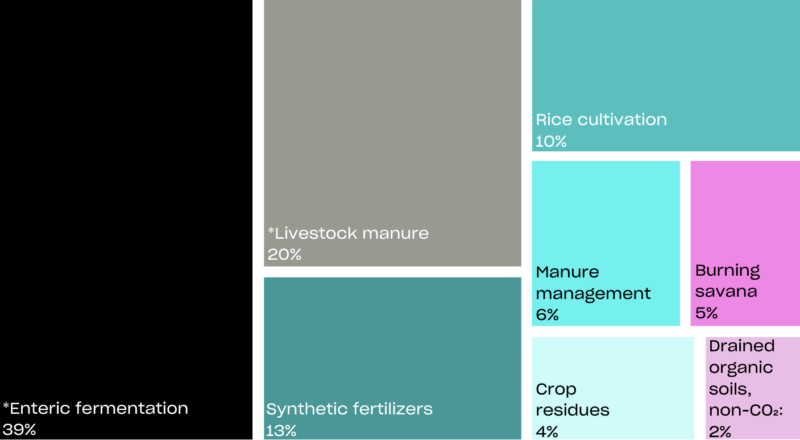 Source; ProTerra, 2021
*AENU does not invest in activities that lead to an increase in animal-derived meat production or consumption, and therefore excludes any segments within the animal value chain.
A snapshot of the Ag-Tech market
The global agriculture market was estimated at $9B in 2020. It is projected to reach $22.5B by 2025.
Although there was a 20% decline in arable land per capita in the last two decades, three billion more people were expected to be nourished thanks to the potential to improve yields by 30%.
However, COVID 19 and the war in Ukraine trumped those efforts. COVID supply chain disruptions have led to soaring fertilizer costs. Ukraine will sow up to 30% fewer crops this year. Both affect food availability, price stability and food security.
In 2021, $51.7B was invested in 3155 Ag-Tech venture capital deals around the world, according to AgFunder. (These figures only include: Ag-Biotech, Agribusiness Marketplaces, Farm Management Software, Sensing & IoT, Farm Robotics, Mechanization, & Equipment, Novel Farming Systems and Miscellaneous (e.g fintech).)
What do we mean by Ag-Tech?
Agriculture technology (Ag-Tech) is the application of techniques, tools and machinery to control the growth and harvesting of animal and vegetable products. AENU does not invest in activities that lead to an increase in animal-derived meat production or consumption. We therefore exclude any segments within the animal value chain.
AENU Ag-Tech focus areas
Within our non-animal focused segment we identify four key areas: (i) ag-biotech, (ii) precision agriculture, (iii) indoor farming and (iv) ag marketplaces and financing.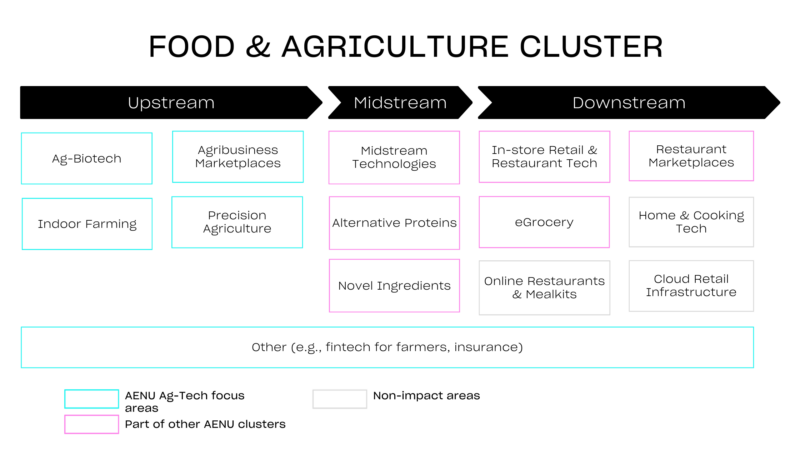 The key impact lever: AgBiotech
Rising populations, limited resources, rising global income and demand for food are pressuring farmers to increase crop production and yield. In order to feed the world sustainably, the biggest impact levers are (1) the substitution of chemical inputs with non-chemical inputs and (2) maximizing agricultural input:output ratio. Substituting chemical fertilizer compounds and reducing usage can abate 0.38Gt of CO2 / year. This is the key emissions lever within the Ag-Tech sector, and AENU's primary focus.
What are the impact levers in AgBiotech?
What's stopping AgBiotech from taking off?
Entry barriers:
Development costs: fertilizer costs have risen nearly 30% since the start of 2022. Price drivers include surging input costs, supply disruptions caused by sanctions (Russia and Belarus) and export restrictions (China). Reducing the prices for AgBiotech products could be extremely profitable for producers. Farmers can also increase their profits by using AgBiotech crops that deliver higher yields. However, especially for genetically modified plants (GMO), farmers face the risk of consumer skepticism.
Duration of regulatory approval is increasing in an environment which is still vague and fragmented. Countries have different regulatory systems regarding GMO and the lack of harmonization impedes the roll out of bio-technologies.
Which AgBiotech solutions are we most excited about?
The current market size of Ag-Biotech (fertilizers, new crops & microbiology) is $70.2B (8.2% CAGR until 2026). We focus on three key areas:
Microbiology: any technological application that uses microbiological systems, microbial organisms or their derivatives, to manufacture or modify e.g. fertilizers, pesticides or herbicides.
Alternative fertilizers (synthetic and microbial): although this is sometimes a subset of microbiology, we dedicate its own category given its importance. Alternative fertilizers better synchronize nutrient release with a plant's needs, e.g. whether the plant requires slow or fast release, or increasing the solubility of zinc in fertilizers to improve crops' early growth. Nutrient recycling is another growth area to support sustainable agriculture and the circular economy.
New crops that are more resistant to extreme climate conditions and have higher yields. Technologies include GMO and CRISPR. However gene-editing tools such as CRISPR are more precise and reduce or avoid genetic modification, leading to regulatory advantages and tackles the issue around consumer skepticism.
Special Mention: Regenerative Agriculture
To take a systems change approach to agriculture would mean to think beyond tech-only approaches. As impact VC investors who are motivated by driving meaningful impact at scale, we deeply believe that regenerative agriculture has to play a role as an alternative means of producing food that has a net positive environmental impact.
AgBiotech can surely help the regenerative agriculture movement. But there is one more emerging business model around regenerative agriculture that is worth mentioning: soil carbon sequestration. Many startups are trying to incentivize farmers to use regenerative agriculture practices by sharing profits from carbon credits sold based on the measured sequestered carbon. Although an exciting, and necessary, development, we remain cautious on:
Impact reversal risk: if farmers who have deployed regenerative agriculture practices change their methods back to conventional agriculture, not only all the impact benefits are wiped out but also the carbon credits sold are worthless.
Measurement & verification: Measuring the amount and pace of soil carbon sequestration is extremely difficult, and needs to be further developed to have confidence on the quality of potential credits. Plus, there are still many different measurement protocols with varying degrees of quality.
Reporting: double counting and additionality are critical to account for emissions reductions. We believe current insets behave more like offsets than removals, and therefore there is a risk of mis-reporting.
Which companies are we following?
There are an increasing number of AgBiotech startups in the market. They usually face similar challenges: farmer buy-in and adoption, testing cycles (usually in line with long crop cycles) and effectiveness (in terms of quality / yield). Some of the most well-known startups in this segment are:
Description: Developer of modern biofertilizer designed to create affordable, organic, and sustainable methods of fertilization.
HQ: Natick, MA, US
Stage: Series A
Last Round: €44.17M (Jan 2022)
Investors: AgFunder, Collaborative Fund, Lowercarbon Capital
Description: Developer of ready-to-use nitrogen created with only air, water, and renewable electricity intended to offer fertilizer directly at the point of use
HQ: San Francisco, U.S.
Stage: Series A
Last Round: €19.66M (Jun 2022)
Investors: Lowercarbon Capital, Climate Capital, Fine Structure
Description: Agricultural technology to speed up the process of creating future-proofed crops. The company's technology uses AI and genome editing to explore, predict, and develop effective, novel crop traits
HQ: London, UK
Stage: Seed
Last Round: €5.02M (Nov 2021)
Investors: Pale Blue Dot, FTW Ventures, Purple Orange Ventures
Description: Developer of a microbiomes technology discovery platform intended to engineer microbiomes for addressing food security
HQ: San Francisco, US
Stage: Series A
Last Round: €10.51M (Dec 2020)
Investors: Plug and Play, Y Combinator, SVG
Which Ag-Tech investors inspire us?
There are a few dedicated Ag-Tech or Food&Ag investors. In this category, we follow AgFunder and Anterra closely. However many climate tech funds have an Ag-Tech vertical. Here, we follow S2G Ventures, Lowercarbon Capital, or Breakthrough Energy Ventures. In general, there is a lack of growth investors in Ag-Tech. U.S VC Aliment Capital or the Liechtenstein Group are one of the very few who are worth mentioning.
Key takeaways
The biggest impact levers of non-animal agriculture are the substitution of chemical inputs with non-chemical inputs and maximizing agricultural input:output ratio.
Outside of the animal value chain, AgBiotech offers the biggest potential not only for GHG reduction, but for human health, crop vulnerability and biodiversity.
However we need to tackle the challenges around barriers to entry, development costs and regulatory issues.
AgBiotech startups also face further challenges of adoption, long testing cycles and quality and yield success.
AENU remains cautious with emerging regenerative agriculture incentives linked to carbon credits markets alone, due to impact reversal risk and challenges around measurement, verification and reporting.