It is encouraging to see an increasing number of impact venture funds. According to Dearoom, there are 295 impact VC investors. With this number steadily increasing, it can be a challenging world for an impact startup to navigate. What should you expect once you begin the investment process with your chosen impact investor? There is certainly no one size that fits all. Each impact investors' criteria and process differs slightly. In this article, we summarize what you can expect from us in your very first touchpoint with us: your application.
What does impact mean to us?
Below is a visual summary to help you understand if your startup fits our definition of impact. We have dedicated an entire blog on the evolution of impact investing and what it means to us if you want to learn more.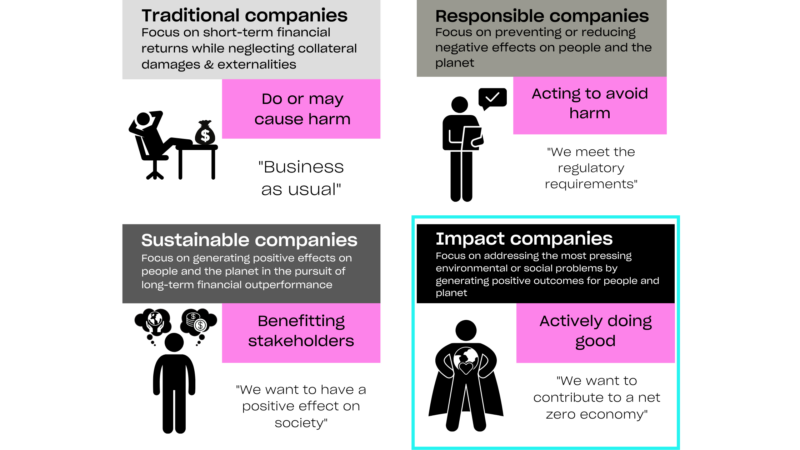 Does your startup meet our impact criteria?
Topics
Our fund covers four impact topics. Our primary topics are 1) GHG emissions: avoiding or removing 350Mt (megatons) CO2e at the technology level and at scale by 2030, 2) Wellbeing: significantly improving the wellbeing of 35 million of people by 2030. Our secondary topics are 3) Biodiversity: restoring or conserving our most precious natural and biological resources and 4) Water: ensuring the quality and efficiency of our water systems.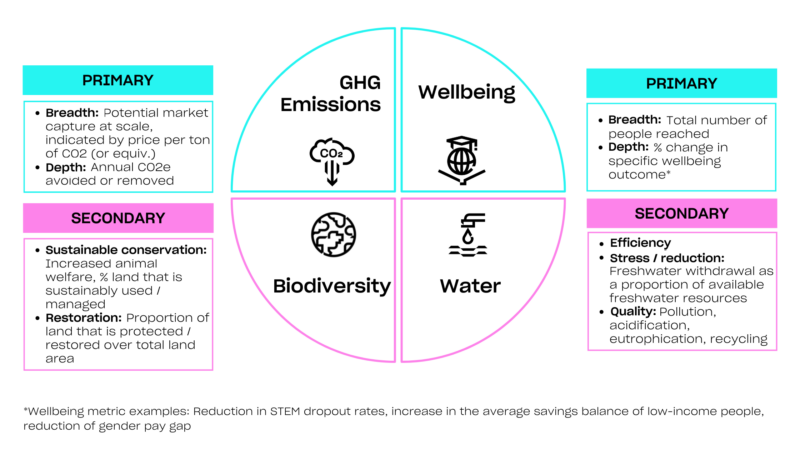 Impact Investment Thresholds
In order to ensure that we are channelling capital to the most impactful innovations, AENU has set impact investment thresholds. These thresholds help us filter sectors or themes that are small from an impact perspective. We are specifically looking for technologies that have the potential to reduce 100Mt CO2e at scale or that can significantly improve the wellbeing of 10 million people around the world. One example could be sustainable cement production. This is because cement is responsible for 8% of the world's emissions. In context, in 2020 the world produced 34.81 billion tonnes of emissions. 8% of this would mean 2.78 billion tonnes which more than reaches our threshold of 100Mt.
On the other hand, we do not invest in micromobility technologies such as escooters. This is because, research has suggested that only 34% of escooter trips replaced a journey that would have been taken by a higher emitting vehicle. Although they emit less than cars, escooters actually produce more CO2e per passenger than electric mopeds, bicycles and even diesel buses. At best, escooters can save approximately 5.8 kt of CO2e per day when travelling by car is replaced with escooters. This is 2,217 of annual tonnes, which barely scratches the surface of our impact thresholds. We would prioritize technologies that will have a larger impact at scale, like alternative fuels.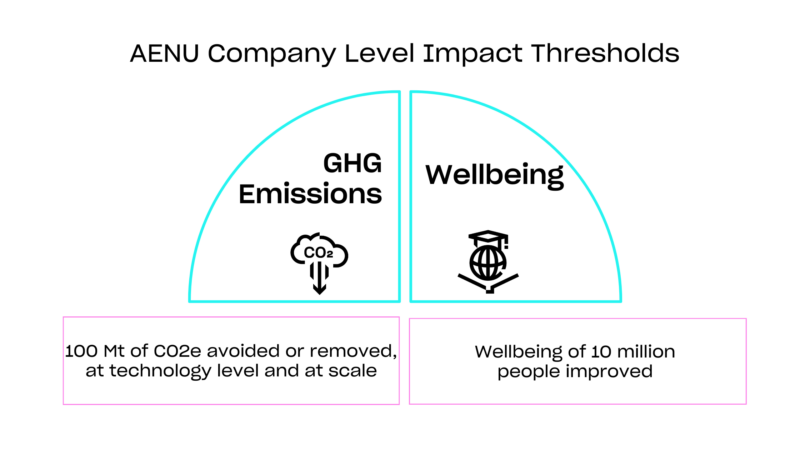 Does your startup meet our impact guidelines?
Different impact VCs are looking for different types of impact. That is why no two impact investors will have the same profile of startups in their portfolio. We define the type of impact we are looking for based on six guidelines. This first screening helps us understand whether a technology is tackling the root cause of a problem, whether the business model is delivering impact at the core, and whether the potential impact meets our investment thresholds. Our impact guidelines are:
Intentionality
Here we determine if impact is a core motivation of the founders. For instance, if a founder comes to us and says "we are doing this because we saw a commercial opportunity, and it so happens that it's also contributing to climate mitigation" or "I am not an impact startup, I don't believe that would bring returns", then we would question intentionality. Why? Because there is risk of mission drift, that is, when things get tough the founder might pivot the company toward a non-impact solution.
Impact Logic
Is the product / service tackling the root cause of the problem, or is it a patch? Is there research evidence indicating that the product has a direct effect on the impact challenge? For instance, a B2C gamified app might incentivize people to take climate-aligned personal decisions such as eating less meat, but there is no scientific evidence that proves this gamification method is effective in changing people's behavior. Rather, we would invest in meat substitutes that look and taste like the real thing, as there is clear evidence to show that taste is one of the largest barriers to wider adoption of plant-based diets. Internally, we use a simplified Theory of Change framework to understand startups' impact logic.
Interlock
Is the impact locked with the business model? Is it impossible to create commercial success without creating a positive impact for the world? For instance, we would not invest in a startup with a buy-one-give-one business model, such as donating a % of a consumer purchase to a charity. Why? Similar to intentionality, there is a risk of mission drift.
Depth, Breadth & Duration
This relates to our impact investment thresholds – does the technology have the potential to avoid or remove 100mt CO2e at scale, or improve the wellbeing of 10 million lives? Our portfolio companies aim to maximize both reach and the degree of change. For example, whilst inductive liquid heater kettles reduce energy waste and prevent non-recyclable plastic waste, the problem being solved is not big enough. This is because standard kettles use a very small amount of household energy. On the other hand, our portfolio company Labster has scientifically proven that they can improve the learning outcomes of students by +80% with their virtual simulation tool. This figure refers to depth of impact. Labster has already reached +3M people and is on track to serving +10M people, therefore also meets our breadth of impact threshold.
Additionality
Are there solutions that are more effective in tackling an impact problem than the one being evaluated? What would happen if the technology in question didn't exist? A technology that lacks additionality would be a carbon accounting software that is not incentivizing clients to reduce their footprint through baselines (what would have happened without such software?) and actionable recommendations. After reducing emissions, such a software would also nudge clients to choose high-quality carbon removal offsets.
Any carbon removal company is additional because the IPCC Report states clearly that carbon mitigation solutions alone are not enough to reach the Paris Agreement Goals. Within carbon removal solutions, nature based solutions cannot sequester all the carbon that the IPCC estimates we need to sequester. Therefore, nature-based removal solutions need to be complimented with technical carbon sequestration.
Impact Measurement & Management (IMM)
Is the team behind the technology committed to quantifying, tracking and improving their impact? Although we are committed to IMM (hint: we like Lifecycle Assessments), impact measurement needs to be fit for purpose. There is no point for a pre-product startup to do an LCA, for instance. Nor is it reasonable to ask the same pre-seed startup for a comprehensive carbon footprint (Scope 1-3). The earlier a startup is, the further we work on the surface. And yet, we do want to see commitment that the startup will up the impact game as it grows, including by allocating FTE to impact and sustainability. Their commitment comes with our own commitment to support and create value to our portfolio. For example, as a partner of Leaders for Climate Action, we give early-stage startups access to a simple CO2 calculator. We also conduct Impact and ESG workshops to identify in which areas we can provide tailored support, resources or best practices.
"We were impressed with AENU's rigorous impact screening process. It speaks to their comprehensive understanding of meaningful impact. Startups and investors alike could learn a lot from AENU"
– Tillmann Lang, Co-founder & CEO, Inyova
Keep an eye out for part two of this blog, where we will outline what happens if your startup meets our thresholds and guidelines and what you can expect from our investment process.
To discover more about our impact methodology and process download our Impact Framework and check out our other Impact Resources.
Like our content? Subscribe to our newsletter here! We won't bombard you, we send our newsletters out every few months with content we believe will be rich and useful for our community.